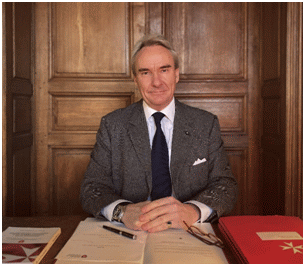 Niels Carl Alexander Lorijn, a Dutch citizen, joined the Sovereign Military Hospitaller Order of St. John of Jerusalem of Rhodes and of Malta in 1999, and has since been actively involved in various of its humanitarian aid and healthcare projects across Latin America and Europe.
He was elected to the Order's Camera dei Conti (Board of Auditors) at the 2014 Chapter General and re-elected in 2019 for a second term, which ended in January 2023. In April 2020, he was appointed Ambassador Extraordinary and Plenipotentiary of the Order of Malta to the Republic of Poland, thereby succeeding H.E. Ambassador Vincenzo Manno.
Mr. Lorijn is married and has three daughters. He grew up in Spain and went on to pursue his university studies at KULeuven (Belgium), where he graduated with a Master of Science in Applied Economics in 1991.
Following his university studies, Mr. Lorijn pursued a career in investment banking with Merrill Lynch & Co and ING Barings in London, New York and Mexico City, during which he advised financial institutions and multinational companies on mergers, acquisitions, disposals and capital markets transactions. In 2002, he left the world of banking to focus on making principal investments in privately held companies, with an emphasis on the technology and consumer industries.
Since 2002, Mr. Lorijn has helped build four successful investment platforms in Europe, the US and the Middle-East, and has led equity and debt investments in circa 40 companies. He is currently a co-founder and Chairman of Capdesia Group, a private equity firm focused on the consumer food service sector.
Mr. Lorijn is a member of the Egmont Institute (a.k.a. the Royal Institute for International Relations) and a former member of Chatham House (a.k.a. the Royal Institute of International Affairs) and the UK Institute of Directors (IOD). In 2019, he was awarded the dignity of Grand Officer of the Order pro Merito Melitense by the late Grand Master of the Order of Malta, Fra' Giacomo Dalla Torre del Tempio di Sanguinetto.